Central Employee Database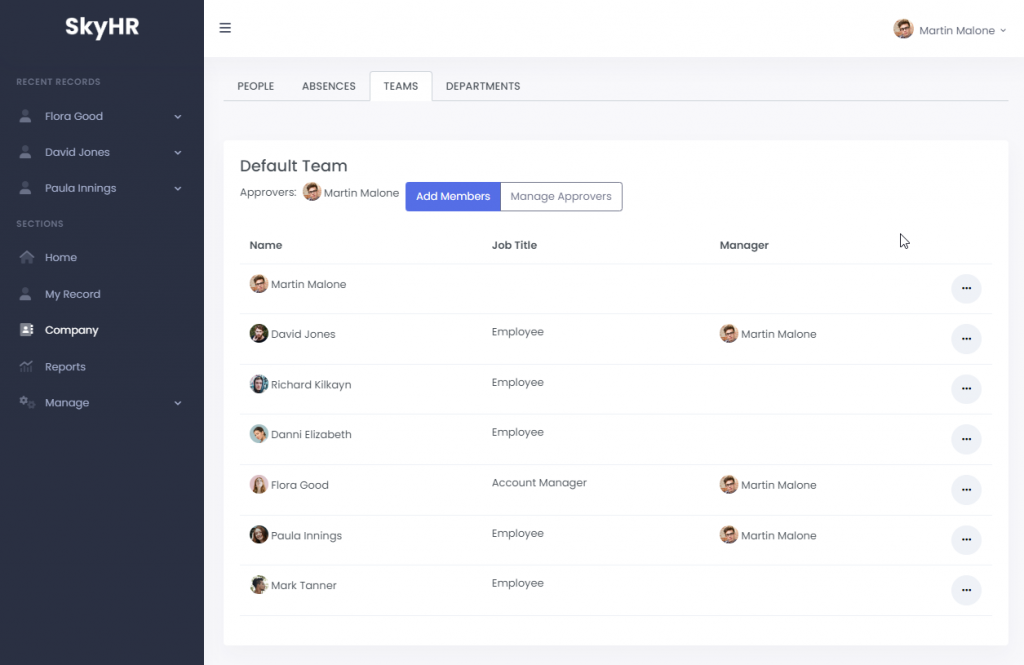 Simplify your employee management with our central database that brings all of your employee records into one easy-to-use platform. Keeping employee information up-to-date has never been easier, with the ability to easily update personal details, employment history, organizational structure, emergency contacts and more, all in one place.
With consistent and accurate data, you will have all the information you need to make informed decisions, even when you're not in the office. Our solution provides a comprehensive overview of your workforce, making it easier to manage and monitor your employees, and also enables compliance with legal regulations.
Say Goodbye to Time Off Spreadsheets
Say goodbye to the headaches of managing time off with SkyHR. Our automated allowance calculation and shared absence calendar keeps everyone in the loop, eliminating the need for time off spreadsheets and complicated holiday allowance calculations.
Streamline time off requests with SkyHR's easy-to-use system, and take control of the process by assigning approvers for each employee. Save time and resources with SkyHR's automated time off management, and experience the peace of mind that comes with knowing you're in compliance.
With SkyHR, managing time off is simple and stress-free.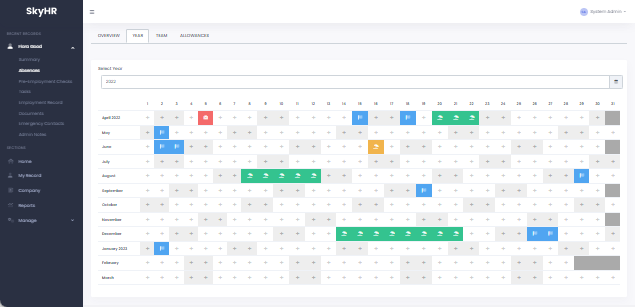 Keep Company & Employee Documents Secure​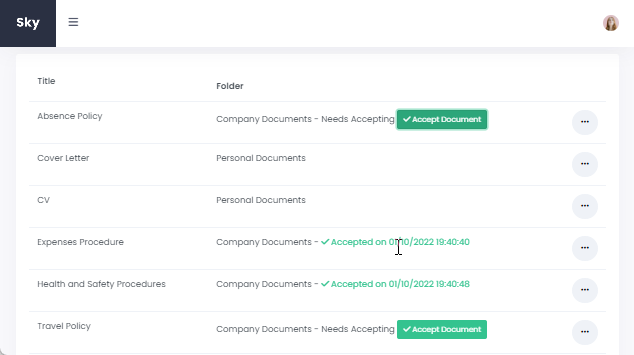 An all-in-one HR document management system for your company, providing a secure and accessible platform to store and share all your employee-related documents. This includes a comprehensive library for your company handbook and other important documents, ensuring that all employees have easy access to the information they need.
The system also offers the ability to track employee engagement, allowing you to ensure that all employees have read and understood the documents provided to them. This streamlines the process of managing and sharing company documents, providing a more efficient and organized approach.
SkyHR has been a game changer for us. The software is really clear and user friendly, making it easy for our team to manage employee records and streamline HR processes. Thanks to SkyHR, we no longer have to spend hours sifting through paperwork and trying to keep track of everything manually. We couldn't be happier with the level of service and support we've received from the SkyHR team.
Nicola
— Active Wellbeing School
Help
Frequently asked questions:
Is there a contract or commitment required to use SkyHR?
No, there is no contract or commitment required. You can try the software risk-free, and you can cancel at any time.
Will I need to provide my credit card information to start the risk-free trial?
No, you will not need to provide your credit card information to start the trial.
What features does SkyHR offer?
SkyHR offers features such as personnel record management, compliance document tracking, holiday and time off tracking, and more.
Is SkyHR suitable for small businesses?
Yes, SkyHR is designed specifically for small businesses and is tailored to your needs.
Is there a limit on the number of employees I can add to the system?
No, you can add as many employees as you need to the system.
What type of support is available if I have questions or run into issues?
SkyHR provides support through email and you can also refer to our in app guides for quick answers to common questions.
---
Latest articles from our blog
Sign up to our newsletter