Employee Absence Calendar Software
Manage absences requests, approvals, and allowances like a pro with an online absence calendar
Employee Self Service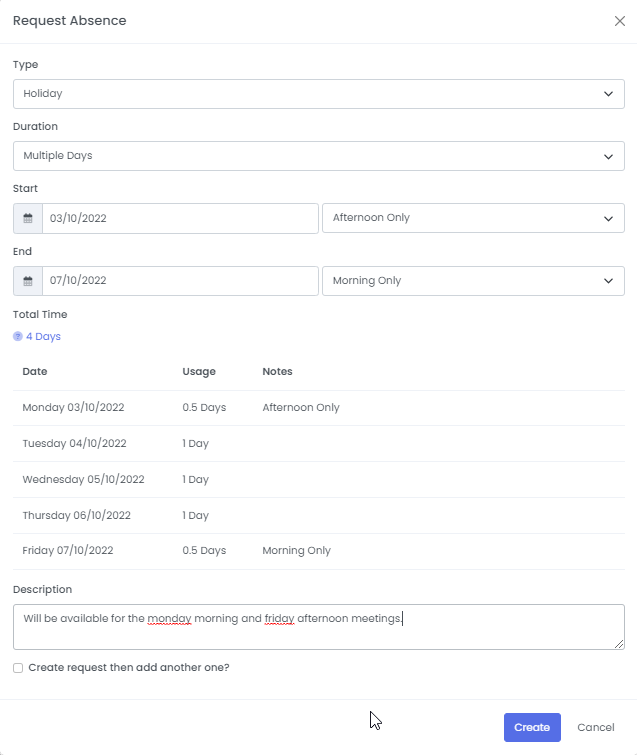 Our self-service portal is the perfect solution for streamlining the time-off request process for your employees. It gives them the power to take control of their time off and manage their schedules, without having to come to you for approval.
With our platform, your employees can easily view their team absence calendar, select the type of absence they need, and pick the dates that works best for them and their team – ensuring that their team is never understaffed.
And the best part is that this is available 24/7 and can be accessed from any device, including mobile phones. This means that your employees can request time off whenever and wherever they need to. No more waiting until they're back in the office to submit a request.
In addition, our self-service portal also allows you to easily track and approve time-off requests, ensuring that your team is always properly staffed and that your employees are getting the time off they need.
Overall, our self-service portal is a win-win for both you and your employees. It saves time, improves communication, and ensures that your team is always properly staffed. Give your employees the power to manage their time off and see the benefits for yourself.
Team Absence Calendar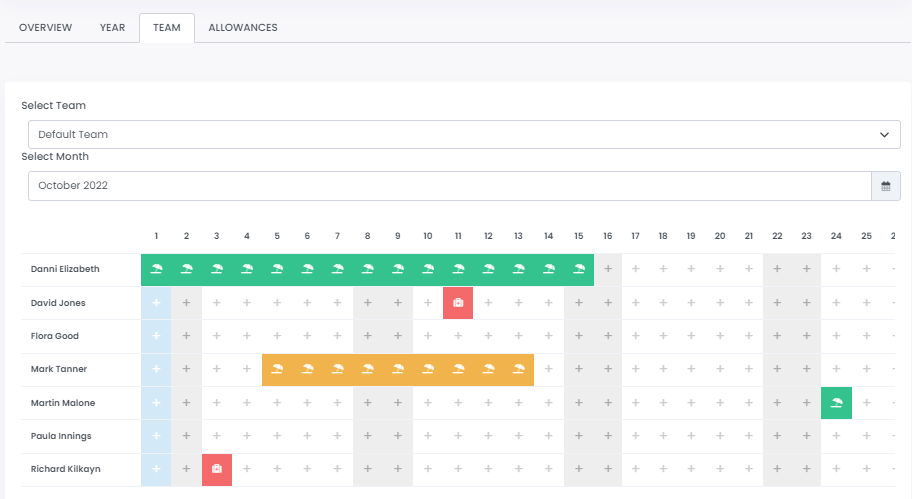 The Team Absence Calendar is a powerful tool that allows employees to easily plan and coordinate time off with their teammates.
By organising your employees into teams, everyone can see when others are taking time off, making it easier to plan and schedule around each other's absences.
Additionally, this system allows managers to have a clear overview of the scheduling and availability of each team, helping to ensure that there is always adequate coverage and that teams are well-staffed.
Furthermore, it can be a great way to improve communication and collaboration between team members, as they will be able to see the absence of their teammates and plan accordingly. Overall, it can be a great way to improve efficiency and productivity within the company.
Employee Absence Summary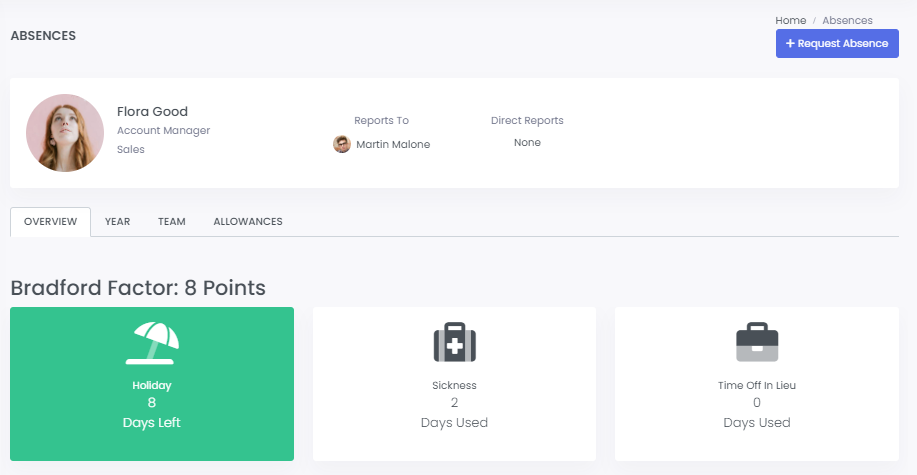 Our employee absence summary not only quickly and easily helps you track the number of sick days an employee has used, but also provides information on their remaining holiday allowance.
Additionally, it offers a comprehensive overview of all employee absences, including dates and reasons for the absences. It's a valuable tool for managing and monitoring employee attendance and ensuring compliance with company policies.
The summary view can be accessed at any time for real-time data. With this view, you can easily keep track of employee absence, so you can make informed decisions and manage your team effectively.
Stay Informed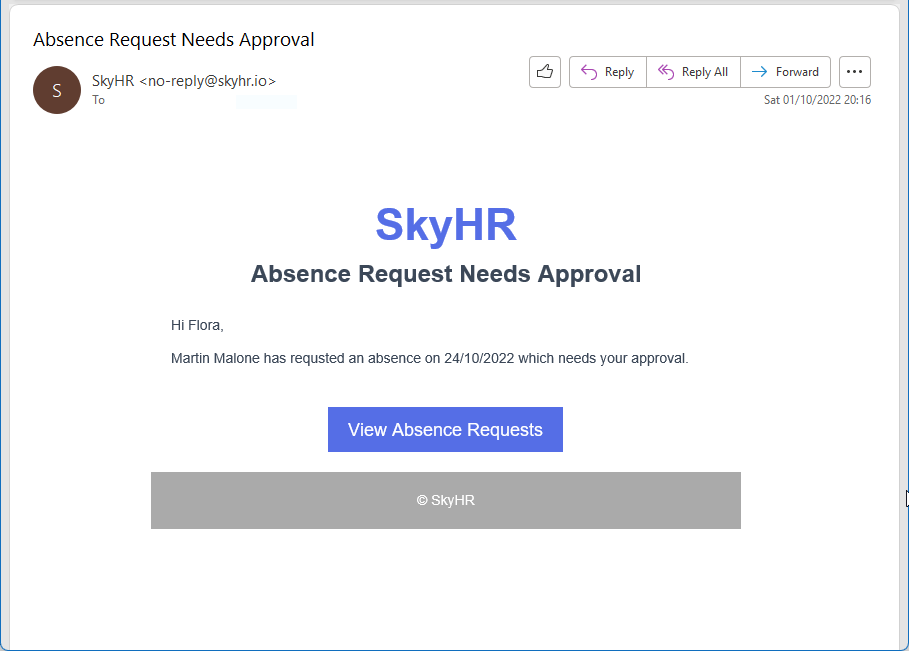 We understand that managing employee absence requests can be time-consuming and may take away from other important tasks on your to-do list. To alleviate this burden, we have implemented a notification system that eliminates the need for you to constantly check the absence calendar for new requests.
Whenever an employee submits a request for time off, we will immediately send you an email with a direct link to the request, allowing you to quickly and easily review and approve or deny the request without having to navigate through the absence calendar. This streamlines the process and saves you valuable time, so you can focus on other important responsibilities.
Reviewing Absence Requests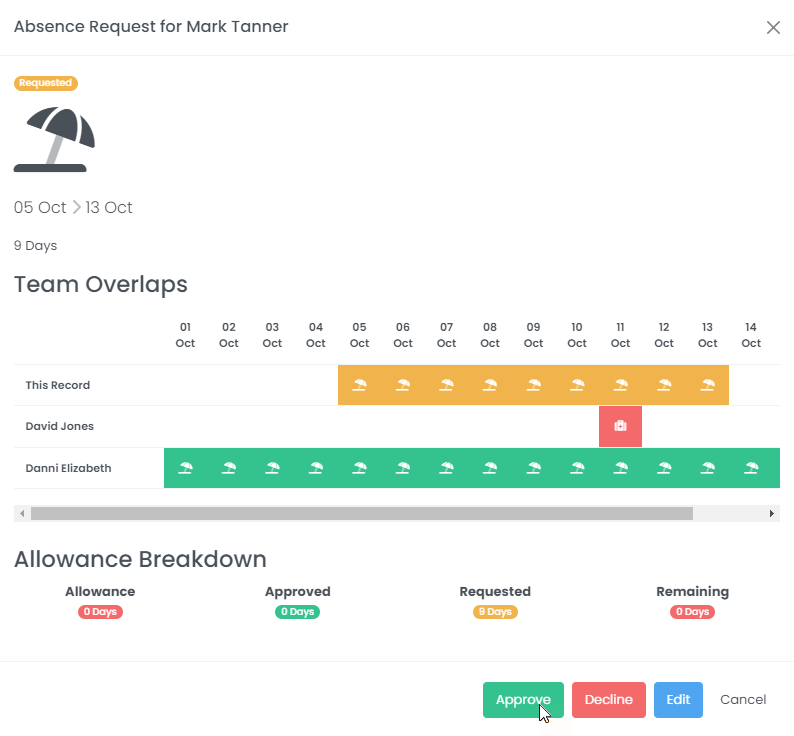 For each absence request, we provide all necessary information for you to make an informed decision on whether to approve or reject it. Follow these 3 steps:
Check Allowances
Verify the employee's available allowances.
Check Overlaps
If the absence overlaps with any other employee in the team, it will be shown to you.
Make your decision
Approve or decline the request and notify the employee via email..
Control Approve Requests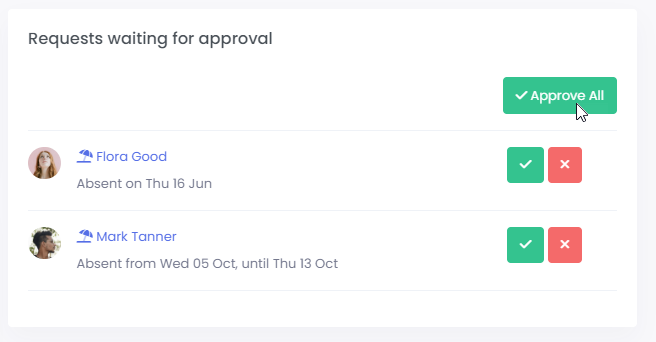 As an administrator of your company's absence management system, you have the flexibility to determine the level of oversight required for employee absence requests. You can choose to have all absence requests automatically approved, or to have them go through a review and approval process.
Additionally, you have the ability to select specific individuals or teams within your company to handle the approval process. This allows you to delegate the responsibility to those who are best equipped to handle it, while ensuring that the process runs smoothly and efficiently.
Furthermore, if you do choose to have absence requests reviewed and approved, you have the option to review them all at once, or to look at each request individually. This allows you to prioritise and handle the requests in a way that best suits your needs and the needs of your company.
Easily see who is away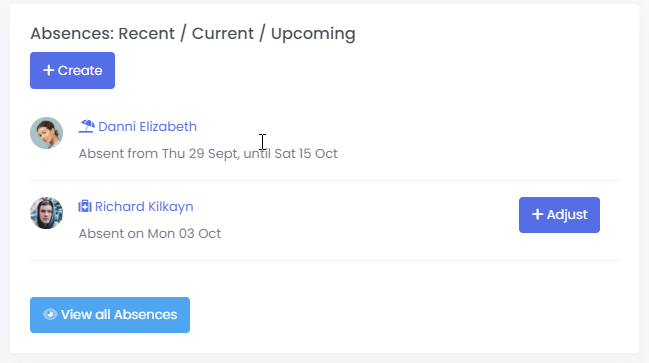 Say goodbye to the tedious task of sifting through countless spreadsheets to determine who is absent. Our solution offers a convenient and efficient way to stay informed about who is out of the office.
With a clear and concise summary, you can quickly and easily see who is away today and in the upcoming week. This means you can spend less time on administrative tasks and more time focusing on important projects and tasks.
Don't waste any more time searching for this information, let us help you stay organised and on top of your team's attendance.
Per Employee Absence Calendar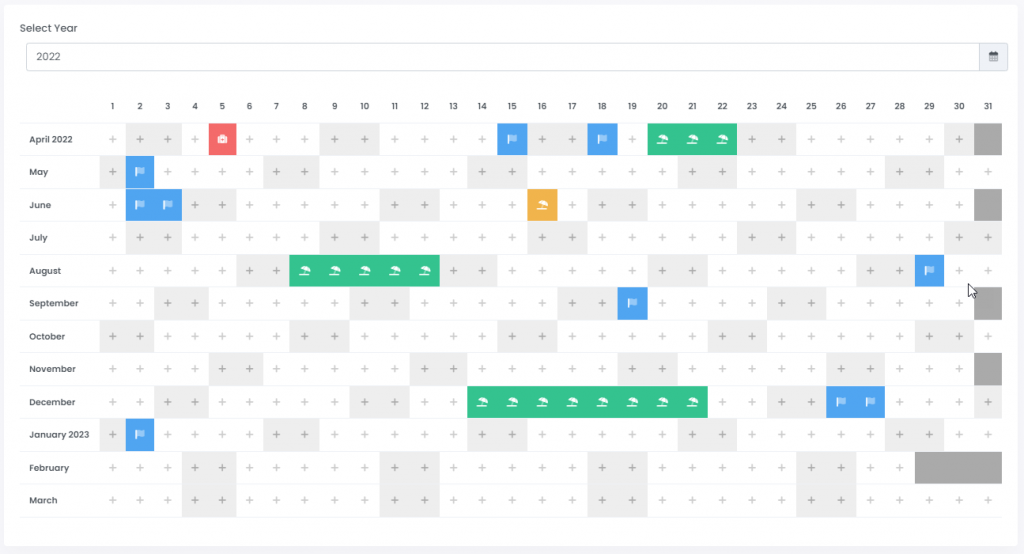 The Employee Absence Calendar is a valuable tool for managing and tracking the time off of a single employee. It provides a comprehensive view of the employee's absence for the entire year, displaying key information such as the type of absence, the start and end dates, and the status of the request.
The calendar is designed to be user-friendly and easy to understand, making it a convenient tool for managers and HR professionals to stay on top of employee absences and ensure smooth operations for the business.
Additionally, the calendar allows for quick and easy updating and editing of absence requests, making it a seamless process for both employees and managers to manage and track time off.
Absence List with Trend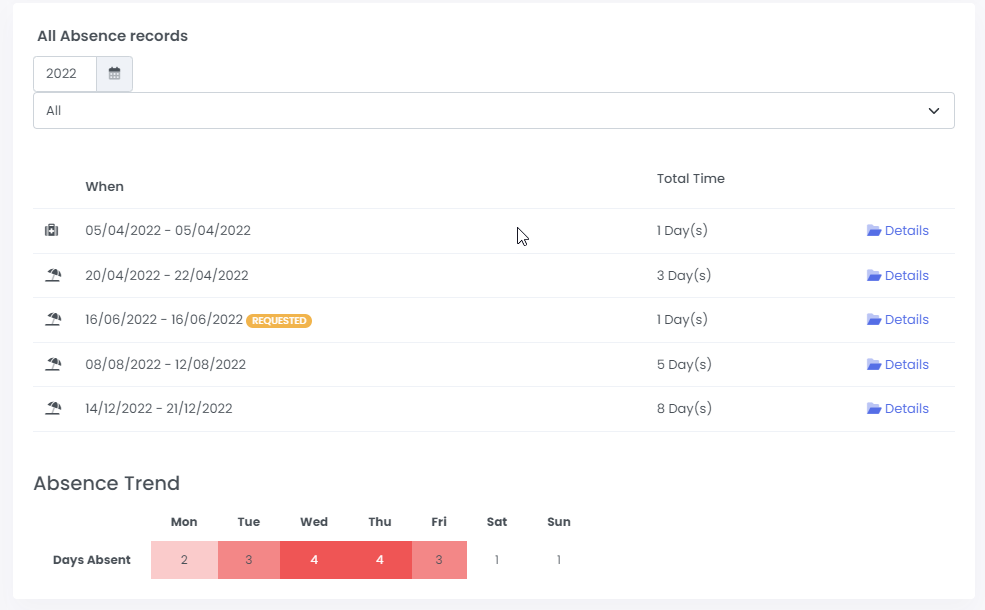 The absence list provides a detailed view of an employee's absences, allowing you to track and monitor their attendance.
In addition to displaying each individual absence, the list also includes an absence trend feature, which allows you to identify patterns in the days of the week that the employee is most frequently absent.
This information can be valuable in identifying areas where you may need to focus your efforts to improve attendance, such as addressing certain scheduling issues or addressing any underlying issues that may be causing the employee to miss work.